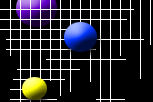 Crew Bios


Timothy Del
Director
Timothy Del is a former criminal defense trial attorney of ten years. His directorial debut occurred in 2000 with a short film entitled, "Two Ships in the Day" which received festival showings at the New York Short Film Festival and KC Filmmakers Jubilee.
He has subsequently directed seven short films, four television commercials, one industrial infomercial and assistant directed the Kansas City feature film, "Grassfire" in 2002. Timothy acted for seven years in local stage productions in Kansas City before moving to film. As a writer, Timothy has completed two full stage plays, three feature film screenplays and thirteen short form screenplays. "Directing is storytelling and I love to tell stories."
When asked about SNAP, Timothy said, "The strategy for telling the story in SNAP is simple. Cast great talent, help them find their characters, then try not to get in their way."
David Gilmore

Diector of Audio
David has been involved with media technology since he was a pup. He made his first movie "Stranded!?" in Super8 at the age of 12. After working at the Rolla Daily News as a photojournalist and the local television station as a cameraman, David attended William Jewell College, and also studied music at Berklee Music School in Boston. After college, David co-founded Technical Aesthetics Operations (TAO Media Systems) and developed a series of video edit controller products including "Editizer" and "L-Port."
His feature film work includes working as Grip-Electric on "The Barren Heart" and working as Utility Sound Technician for "Article 99", a Hollywood feature shot in Kansas City starring Kiefer Sutherland, Ray Iota, and Forest Whittaker. He has worked on a number of shorts including "Talk Show", "A Spy is Bone", and "Trailer Trash," the winner of the 2003 Bentley Film Festival audience and jury awards. David plays guitar and enjoys jazz, rock, and bluegrass music. David is a Tai Chi instructor in Prairie Village, Kansas. He has also taught in Istanbul, Turkey and is a medalist in international competition.
Jeremy Everts
Production Designer
Jeremy has experience in the theatrical arts that date back to junior high school as an actor and stage crewman. Jeremy has also extensive experience in all positions, including radio and television production and customized stage design.
Jeremy is thirty-three years old, with a wife and four children; ages six, four and a fourth born in 2004. In his spare time Jeremy enjoys playing sports and video games with my family. His goals are bringing Kansas Citians the best entertainment possible to the area and as a valuable resource to the film industry.
Tony Grossi
Director of Photography
Grossi has an extensive background in commercial film and video production whose work has won awards in America and abroad. Having worked for clients such as the China Motion Picture Company, Marc Ecko, Sam's Club, and Pepsi-Cola.Tony's film, Shall we Dance, (OldFather Studios, 2001) resulted in the Bronze Star: Worldfest-Houston Int'l Film Fest. Best in Show: Movies on a Shoestring-Rochester Int'l Film Fest. 1st Place: KAN Film Fest. Finalist: Halfway to Hollywood, Culture Under Fire, Ohio Indie Film Fest, Anchorage Film Fest, KC Filmmakers Jubilee. Broadcast on KCTV5 and UCLATV.
David Winger
Gaffer / Main Grip
David Winger is experienced in many visual arts mediums. David worked for eight years for the Kansas City Star as newspaper staff photographer. David founded his own photography studio and has serviced local Kansas City clients for private photography for twenty years. For the past seven years David has also provided videography services for legal clients and professionals who seek to capture a live performance on high quality video. David is an active member of the local Kansas City Independent Film Community and has assisted in over thirty films shot in the Kansas City area.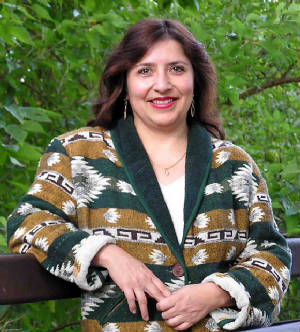 S.J.
Casting Director / Wardrobe
S.J. is a native of Peru who came to the United States at the age of 19 as a Fulbright scholar to attend the University of Kansas for Economics and Latin American studies. In the twenty years that ensued, S.J. has founded two successful businesses: A & S Peruvian Imports and A & S Rental Solutions, Inc.
S.J.'s love of clothing design and photography began at an early age. S.J. began designing clothes at the age of 7 in Lima , Peru. She used to assist her grandmother and mother by cutting and stitching. By the age of 16, S.J. was designing and sewing all her own clothes.
S.J. began expressing herself via a camera in the years that followed. She has traveled extensively to China, all of South America, the Middle East and India. Many of the unique color combinations of the wardrobe as well as set designs in SNAP reflect the the influence and diverse background of S.J. SNAP is her first feature film.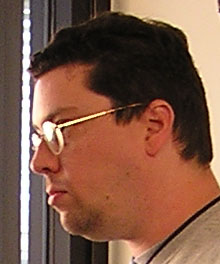 Doug Rottering
Audio Technician/Production Assistant
From an early age Doug has been an audiophile. At the age of ten, He started piano lessons and began to sing in the choir as school. In his teens he studied music theory, photography and writing with hopes of becoming a journalist.
Doug is a graduate of the University of Kansas where he studied music composition, harmony, counterpoint, musical forms, orchestration, and learned to play several instruments. In 1999, He has scored the award winning short film "Stuck on Star Wars." Subsequently, Doug has composed and scored the feature films, "Run," written and directed by Tim English and "Grassfire," written and directed by Dennis Ward. Since then, He has also scored Phil Zamon's short, "Let there be Light". The finely tuned ear of Doug was utilized on the crew of SNAP where he worked as an audio technician and production assistant. In addition to composing music, he also enjoys writing scripts and hopes to direct a television pilot and feature length film in the future.
Paul Campbell
Props Master
Paul not only was the Props Master for Snap the Movie, but additionally had a role as a police officer with guns drawn. His additional credits include:

1998 "Three Girls in Love" , Drama, Key Set PA
1999 "Midsummer" , Rock Drama, Key Set PA
1999 "The Rage Within", Action Drama, 1st Team Driver, Key Set PA, 2nd Unit 2nd AD
2000 "Boys Don't Cry" , Drama
2000 "The Riff" ,Drama, 2nd Unit AD, Set PA
2002 "Grassfire", Comedy, Extra
2004 "The Shunned", Western Horror, Key Grip, Extra.

Paul's favorite Quote: "You gotta LOVE this line of work, to do this job."
Josephina Aguirre
Producer
Josephina Aguirre is the Co-Producer and Unit Production Manager of SNAP the Movie. Ms. Aguirre has 30 years experience as a successful businesswoman in the Kansas City area and resides in Overland Park, Kansas. Jo recently completed her first feature screenplay Butterfly Catcher. She has directed and assisted in short films, with SNAP the Movie is the first feature film she has produced.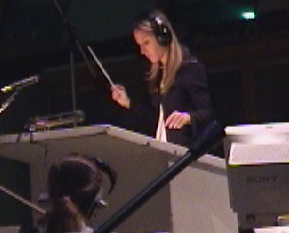 Holly Amber Church
Composer
After receiving her Bachelor of Arts in Music Theory and Composition from Pepperdine University, Holly completed an Advanced Studies Degree in Scoring for Motion Pictures and Television at USC.
She recently scored for the first act of the historical epic Berserker (20th Century Fox Studios). Last year she scored the independent feature, Bill The Intern (Elizabeth Anne Allen of "Buffy The Vampire Slayer," Terry Douglas, producer of Martin Scorsese's upcoming "Brides"). Holly has worked in
Hollywood under the tutelage of several great composers including Stewart Copeland (Wall Street, Rumblefish," and Showtime's Dead Like Me), Christopher Young (Hellraiser, The Core, Swordfish), and Ray Colcord (A Family Affair and Boy Meets World).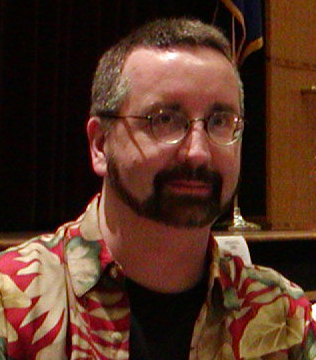 Robert Johnson
Still Photographer & Webmaster
Having shot thousands of pictures on the "SNAP THE MOVIE" set alone, Robert has helped visually capture the movie from pre-production through post-production via still images. He has also created web-based media editing for numerous websites as well as creating the
www.snapthemovie.com
and
www.hamandrye.com
sites. A graduate of DeVry University with a degree in Computer Information Systems, Robert currently "works and plays well with others" at Sprint/Nextel Telecommunications ... whose World Headquarters is based in Kansas City.